In 2017, metal 3D printing enterprises faced a series of competition from sales network to solutions and technical services. The market structure of the added material manufacturing industry is from the stream to the sea, and the market competition is directly switched from track competition to competition on the scale.Enterprises such as GE, GKN and Alcoa play an important role in promoting the development of the whole material manufacturing technology. This also means that metal 3D printing has entered a stage that has never been seen in history.How to prepare for the opportunities? SmarTech, the market research company, has made a series of analysis and prediction on the changes in the competition pattern of metal 3D printing from the equipment end to the metal powder manufacturer, and the prospects for the development of the application end. In this issue, 3D Valley with the Gu friends will share the views of SmarTech together.

Block industry application
  The application of metal 3D printing in the aerospace and medical industry is quiet clear, and SmarTech also predicts that three other applications will maintain high speed growth, including automotive, dental, oil and gas industries. Among them, SmarTech predicted that the introduction of 3D printing technology in the oil and gas industry was more than 80% in 2017, which decreased slightly in 2018 and later, but the growth rate still remaining above 40% before 2025. 3D science Valley speculated that the reason why SmarTech has such a prediction is closely related to the small batch and complexity of petroleum and natural gas exploitation equipment.

Photo: SmarTech's growth forecast for the main application areas of metal 3D printing
  The introduction of metal 3D printing technology in the aerospace industry will remain at an annual growth rate of over 30% by 2024. In the patent approved by GE in 2017, the method of making strain sensors on the turbine components was disclosed,which makes the 3D science Valley believe in it a lot.  Subsequently, GE was granted another patent in January 24th, including the manufacturing technology of fuel injector body and cooling system. If 3D printing is said to become more and more important in the aviation field, then 3D printing technology will have become a "pillar" in the aerospace field. NASA believes that 3D printing has the potential in making liquid hydrogen rocket engines. The team of NASA's AMDE-Additive Manufacturing Demonstrator Engine material validator project , has made more than 100 parts by adding material, and designed an engine prototype that could be finished through 3D printing in 3 years . And by 3D printing, the number of spare parts can be reduced by 80%, and only 30 welding is needed. SpaceX, Blue Origin, Marshall Space Flight Center, Aerojet Rocketdyne, and Rocket Lab have proved again in 2016 that 3D printing will not only improve the performance of rocket launchers, but also reduce the cost of rocket launch.
  In the field of medical treatment, SmarTech predicts that the growth of metal 3D printing applications will remain at a high level above 30% by 2018, and the application of 3D printing will enter a medium speed increase of about 20% after 2019 and 2021. We have seen that between 2015 and 2016, some of the most famous department of orthopedics medical equipment manufacturers in the world such as Zimmer, Smith&Nephew, Stryker, and Johnson have launched 3D printing products , all of which  have been approved by FDA after years of research and verification and finally entered into the medical market.
  In terms of Dentistry, domestic Peking University Stomatological Hospital and Chengdu Dent dental technology are under active application. In Chengdu Dent dental technology, the metal 3D printing technology is successfully used to make the molding and pile core of the fixed porcelain crown and bridge, the metal crown bridge and the molding of the movable support. According to the SmarTech's forecast, although the industry's introduction of metal 3D printing technology is not as fast as the other industries, it will maintain an annual growth of more than 10% by 2026.
  The automobile industry's introduction of metal 3D printing technology will also maintain high growth. According to the forecast of SmarTech, this growth rate will remain above 30% before 2026 . And in 2021, it will reach an explosive growth rate of 50%.

Block sales situation
  According to the SmarTech's report, the sales amount of metal equipment was $445 million in 2014, with other three amounts of $575 million、 $760 million and $820 million in the following three years ; and the sales amount of metal powder was $120 million in 2014 , also with other three amounts of $190 million、 $275 million and  $380 million in the following three years.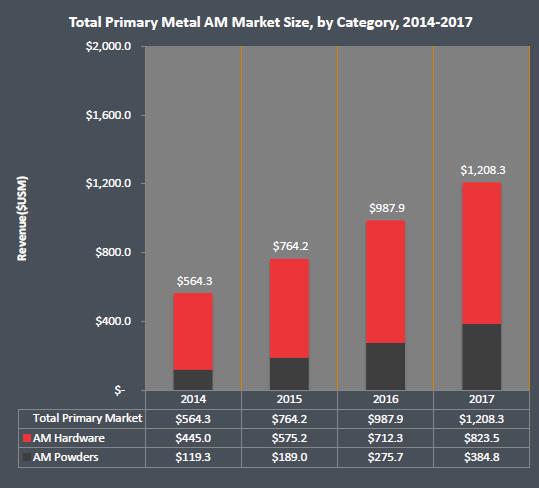 Photo: SmarTech report and forecast on metal 3D printing equipment and powder sales volume.
  Data from different research institutes may differ from each other. Market research firm IDTechEx announced that the 3D printing metal powder Market in 2016 reached US $250 million, higher than forecast. The 3D printing metal powder market will maintain a high growth trend. IDTechEx predicts that by 2025, the market will reach 5 billion US dollars, with a compound annual growth rate of 39.5%.
  According to Wholers and VDW, the metal growth market share is about 10% of all manufactured goods, but this proportion is expected to reach about 51% in 2023.

Block new technology
  SmarTech points out that there are certain levels of competition or complementarity among different metal 3D printing technologies. New metal 3D printing technologies include Nano Particle Jetting, Atomic Diffusion Additive Manufacturing, and Tiles Laser Melting. The main theme of competition revolves around providing high accuracy and complexity of parts, while satisfying higher efficiency and lower cost.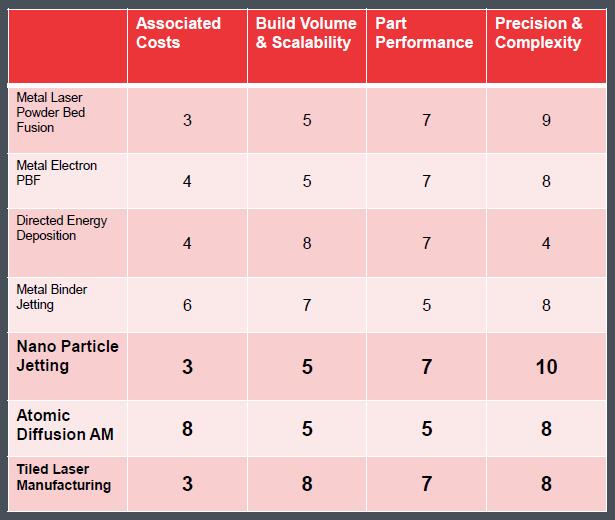 Photo: SmarTech analysis of 3D printing technology characteristics
Nano Particle Jetting: representing enterprise Xjet
  Thousands of "inks" are ejected every second, which sounds like large digital printing and textile printing. The special feature of Xjet is that the ejector head passes through the same area many times, and each time has a small offset, making each nozzle ejected in a few slightly different positions.Xjet's tungsten carbide / cobalt ink composition consists of liquid media acting as a carrier and tungsten carbide (WC) and cobalt (Co) acting as submicron particles and nanoparticles. Cobalt can also exist in the form of precursors, such as soluble organic cobalt compounds, salts or complexes . After finishing the Xjet 3D printing, the inks are sent to the sintering process and are heated at a vacuum and low temperature (several hundred degrees Celsius), in which the organic materials are removed (debonding stage), followed by liquid phase sintering at the temperature near the melting point of the Co. After sintering, the mechanical strength and hardness required for cutting tools can be achieved . Xjet key words include: nano metal jet technology, metal mixing ink, new inkjet device and injection method (high temperature processing), excellent resolution, higher than 5 times the speed of SLS laser sintering.
Atomic Diffusion Additive Manufacturing: representing Markforged of enterprises
  Metal X uses a breakthrough technology called Atomic Diffusion Additive Manufacturing (ADAM). The technology is suitable for materials from titanium to aluminum, which will be printed out in layer by layer, but unlike FDM, it uses a metal powder wrapped in plastic adhesives, which will be removed after printing is completed. Subsequently, the 3D print will be sintered into an engineering metal. Interestingly, ADAM technology will make the whole parts sintered once and allow the metal crystal to pass through the bonding layer to maximize the strength. In the end, you will get a compact structural metal component that can be used in industrial, automotive, medical and aerospace fields.
Flat laser melting process (Tiles Laser Melting): representing enterprise Adira
  The new composite machine tool of the European sheet metal processing equipment enterprise Adira combines two laser material , adding manufacturing technologies and laser cutting technology , with powder bed melting (PBF) and direct energy deposition (DED). The new technology integrated in the Adira composite machine tool is called the flat laser melting process (Tiles Laser Melting). The process will be used. The existing workshops are divided into several small segments according to their order, and eventually a single large part or a few small parts larger than the manufacturing chamber are finally manufactured. By combining the motion of the laser scanner with the defocus ability, different scanning strategies can be set up for the details of the parts and the highly complex contour to improve the productivity and the processing speed.The Adira composite machine tool uses a modular feeding system, which provides 2 different processing materials for the independent double hopper feeding system, and selects the material that is ultimately required by the user. When the feeding equipment is cleaned and prepared, the machine tool can still be processed, which will minimize the waiting time of the equipment.

Block new competition pattern
  GE itself is the downstream application enterprise of 3D printing. After purchasing Arcam and Concept Laser, GE has become one of its upstream 3D printing equipment manufacturers. It also proposes to increase the speed of 3D printing in 2 to 3 years. In the longer term, GE hopes to achieve 100 times the current speed. Through the application and development requirements of the GE downstream business sector, the research and development of the upstream equipment of the GE is continuously nurtured, both in terms of capital and in the know-how, the equipment brands acquired have obtained the advantages that other enterprises are difficult to obtain.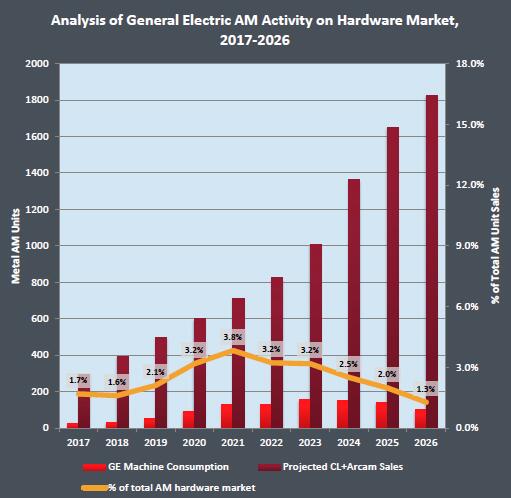 Photo: SmarTech forecast of Concept Laser and Arcam equipment sales for GE
Light red represents sales of metal 3D printing equipment consumed internally by GE.
Deep red represents sales forecast of GE 3D sales equipment.
  Alcoa also announced to set up a company named Arconic alone , making the 3D printing business from powder to printing service . And   Arconic can provide users with professional services from Aeronautical Technology to metal powder production and even product certification. Relying on Alcoa Inc's technological strength, Arconic will become a strong brand with unique strength in traditional metal manufacturing technology and 3D printing . Another company, GKN , around the powerful aerospace business and power vehicle business layout, built three excellent Centers for manufacturing material: GKN US Cincinnati timber manufacturing excellence center, GKN Swedish Trollhatten Manufacturing  Excellence Center and GKN British Filton Manufacturing Excellence Center . While holding Realizer, DMG MORI also announced the opening of new open source and innovative digital software: ISTOS (Innovative Software Technologies for Open Solutions). At present, DMG MORI has a share of 85% of ISTOS. ISTOS's research center is located in Dusseldorf, Germany. It is mainly responsible for developing DMG MORI and other partners' digital production projects. ISTOS will play a role as linking DMG MORI's network devices and integrated digital factories together.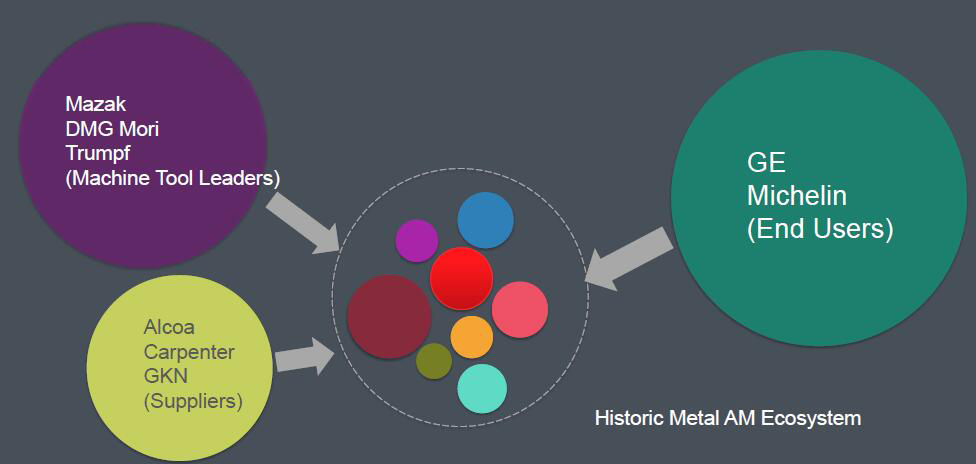 Photo: SmarTech believes that the new ecosystem of metal 3D printing is of great historical value.

Block metal powder
One of the major market applications of metal powders is aerospace, especially nickel based superalloys, cobalt chromium alloys and titanium alloys. The most commonly used alloy powder is titanium alloy Ti6Al4V or Ti64. SmarTech predicts that the consumption of titanium metal (by volume) accounts for about 30% of all metal powder consumption . Titanium alloys are incredibly versatile, often used in many industries, because of their high strength, comparable to steel, but almost half the weight of steel ,  they are widely used and become one of the most popular alloys. In fact, there are two grades of this alloy, Grade 5 and Grade 23. The latter has more stringent requirements for controlling oxygen and nitrogen content.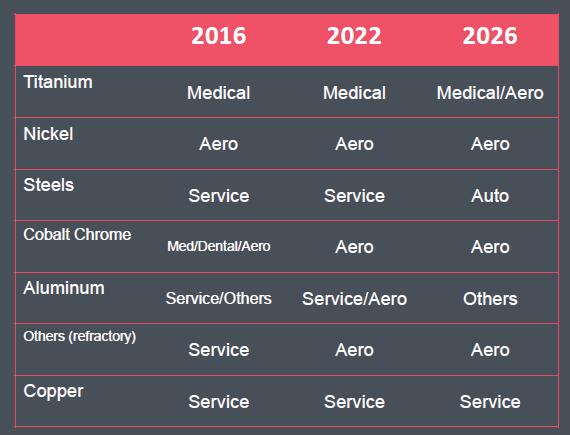 Photo: SmarTech description of metal powder application in different industries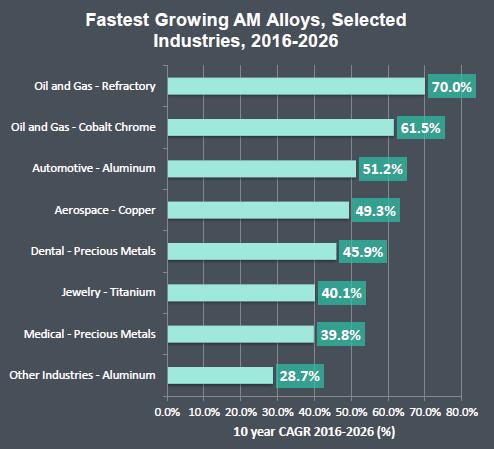 Photo: SmarTech's high speed annual compound growth rate metal powder and its corresponding industry applications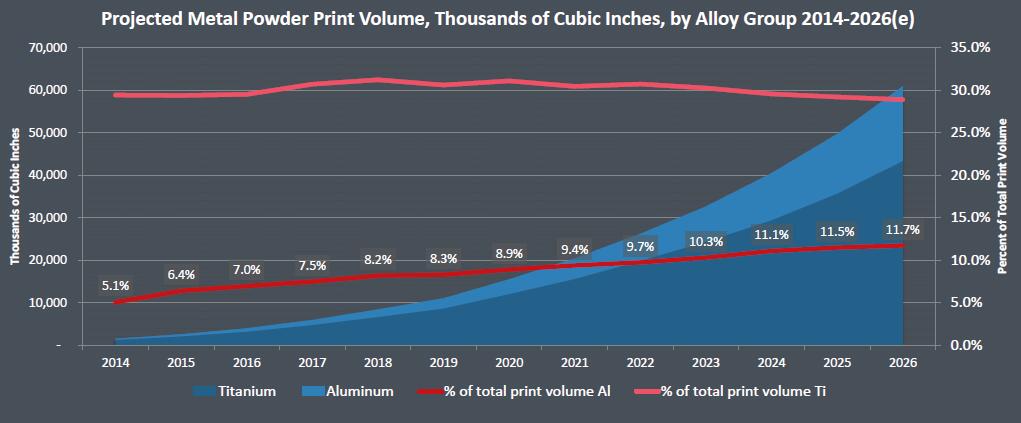 Photo: SmarTech consumption and growth rate of titanium alloy and aluminum alloy
The versatile alloy is cobalt chromium molybdenum alloy, commonly referred to  cobalt chromium, which is most common in dental departments. This is a derivative of ISO 5832 alloy, or ASTM F75, which has a history of tungsten chromium cobalt alloy. It was originally used as a casting alloy for orthopedic implants. But dental alloys are different from cobalt chromium alloys used for implants, because they contain free radicals of nickel (Ni) and have more tungsten (W). Dental alloys have good strength (> 1300MPa, stress relief) and good biocompatibility. They are not easily separated from ceramic coatings. 3D metal printing can make this material into a tooth bridge, a crown and other products. Compared with the traditional manufacturing technology, it has the advantage of shortening the manufacturing process, improving the precision and reducing the cost. However, SmarTech predicts that the application of cobalt chromium will be transformed from medical and dental applications to aerospace industry . Copper is a material with excellent thermal conductivity and reflectivity. This property also challenges the selective laser melting of 3D printed copper alloy powder. The absorption rate of copper in the process of laser melting is low, and it is difficult for the laser to continuously melt the copper metal powder, resulting in low forming efficiency and difficult metallurgical quality control. SmarTech predicts that within 10 years, the application of copper in Aerospace will maintain a CAGR of 49.35 . The consumption of aluminum alloy for all metal powders (according to volume) has gradually increased from 5.1% in 2014 to about 11.7% in 2026, and the 10 year growth rate of aluminum alloy in the automobile industry is 51.2%. Aluminum silicon AlSi12- aluminum silicon 12 is a kind of metal powder with good thermal performance and lightweight addition. Typical applications are thin-walled parts such as heat exchangers, or other automotive, aerospace and aviation industrial prototypes and production parts. The AlSi10Mg- Si / Mg combination has a significant increase in strength and hardness. This aluminum alloy is suitable for thin-walled and complex geometry parts. It is an ideal material for applications with good thermal performance and low weight. The parts are compact and have similar casting or forging parts.
51SHAPE, 2017/04/29
Published in 3DscienceValley